Awareness and capacity building workshop was jointly organised by MCCIA, ISC and EESL.
Venue: Finolex Board Room, MCCIA Trade Tower, Senapati Bapat Road, Pune 411016.
Date: September 17, 2019 from 4 pm to 6 pm.
Topic: 'National Motor Replacement Program (NMRP)' of EESL. This topic is a part of energy related to sustainability actions and the areas of energy consumption, conservation and efficiency in motors.
Facilitator:Energy Efficiency Services Limited (EESL), New Delhi, Institute for Sustainable Communities, New Delhi and Mahratta Chamber of Commerce, Industries and Agriculture (MCCIA), Pune.
Participants: About 37 participants, mainly MCCIA members from the manufacturing sector and institutes participated in the awareness workshop.
MCCIA had organized an awareness and capacity building workshop on 'National Motor Replacement Program,' on 17th September, 2019, at Finolex Board Room, MCCIA Trade Tower, by MCCIA. About 37 participants mainly MCCIA members from manufacturing sector participated in the workshop.
Photo Gallery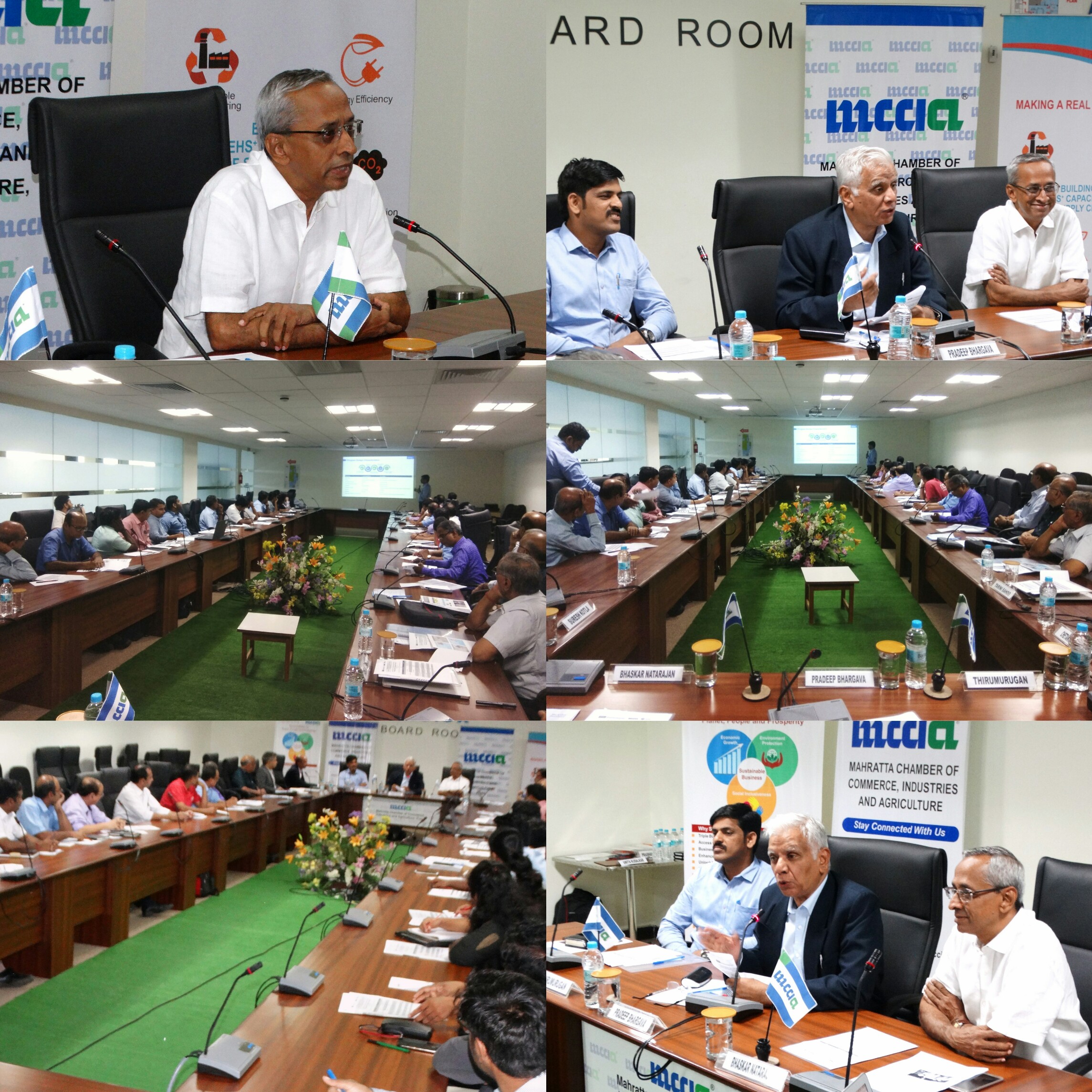 Annexure-1: Agenda of awareness and capacity building workshop on 'National Motor Replacement Program'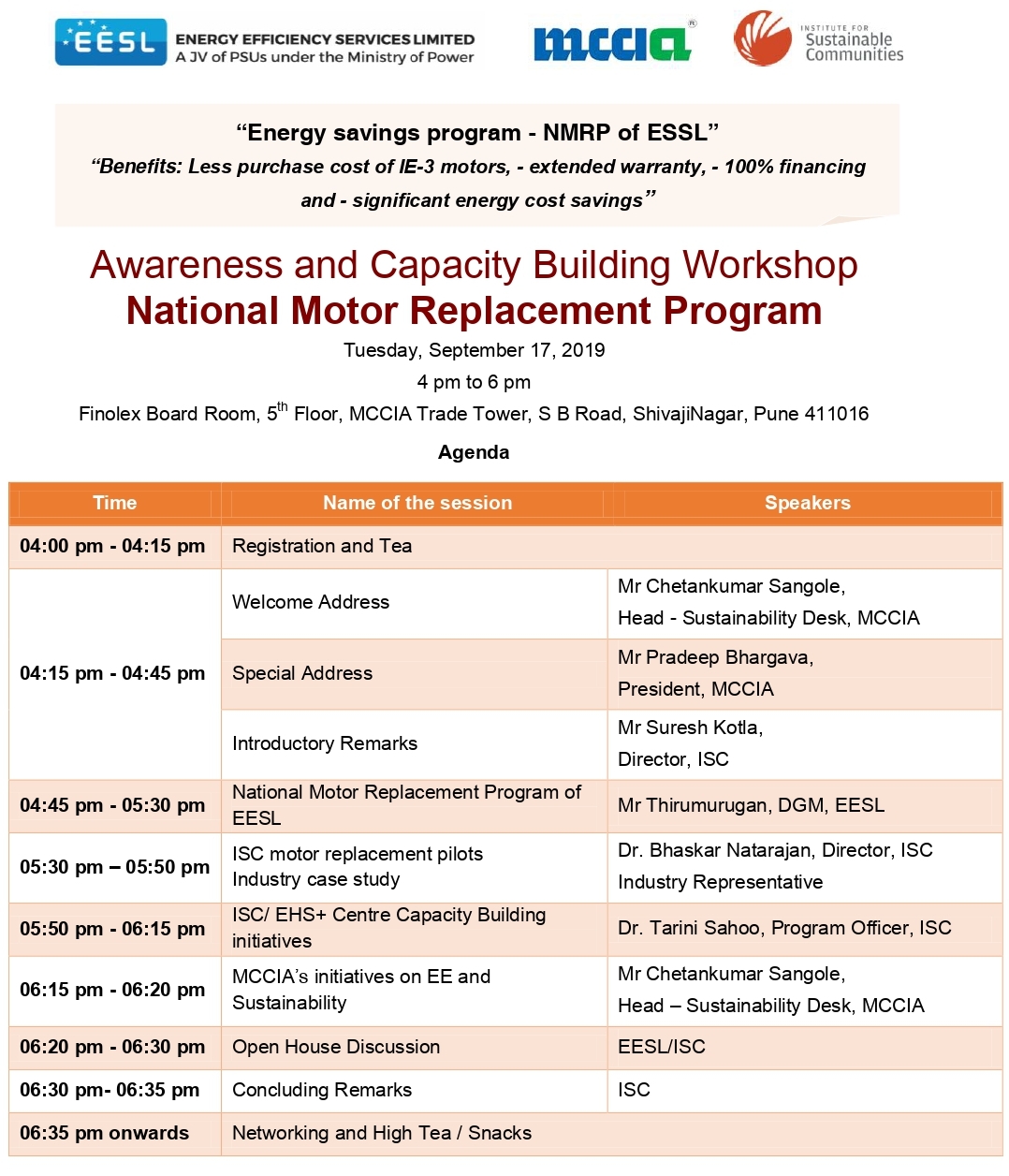 Welcome address:Mr. Chetankumar Sangole
Mr. ChetankumarSangole, welcomed the participants and briefed the background of this awareness workshop. He introduced the speakers and also spoke about the importance of this awareness session. Mr. Pradeep Bhargava (President, MCCIA), Mr. Suresh Kolta (Director, ISC), Mr. Thirumurugan (DGM, EESL), Dr. Bhaskar Natarajan (Director, ISC), Dr.Tarini Sahoo (Program officer, ISC) addressed the participants..
Special Address:Mr. Pradeep Bhargava
Mr. Pradeep Bhargava mentioned that the National Motor Replacement Program has taken a step towards the Green Agenda program. This program will help to improve efficiency of machines in industries.
He mentioned that the low hanging measures which are easy to implement, majority of industries have already taken efforts and implemented such measures to save energy and emissions. However, these efforts are not enough to mitigate climate change risks and achieve energy security. He mentioned that the green plants have capacity to reduce CO2 by absorbing it but we can't wait for it to improve environment by only planting trees. We can adapt activities to change emissions pattern and efficiency through such improvement programs. It is not necessary to wait as it would be an opportunity lost and hence time to take actions for sustainable operations.
He said that technology is changing continuously for e.g. computers changed from the large desktop computers to the small handy laptops, mobile with keys to the smart phones, bigger size TVs to the LCDs and so the motors have to change from less-efficient to high-efficient motors. Transformation is taking place and hencewe have to transfer from IE0/IE1 to IE3 standards motors used in various applications.
He shared many of key insights from his experience.
Introductory Remarks: Mr. Suresh Kolta
Mr. Suresh Kolta said that India is not only fastest growing country but also the largest emitter of Greenhouse gases. He briefed about his organization ISC (Institute for Sustainable Communities) and mentioned that ISC is a non- profit organisation and it's objectives are to improve energy efficiency, the environment, health and safety.
1. Thirumurugan, (DGM, EESL)
Mr. Thirumurugan, (DGM, EESL), gave brief information about National Motor Replacement Program. He mentioned that EESL was promoted by Ministry of Power, Government of India as a Joint Venture of four reputed public-sector units - NTPC Limited, Power Finance Corporation, Rural Electrification Corporation and POWER GRID. For stepping towards an energy efficient world, EESL designed programs like UJALA, SNLP, Energy efficient buildings, e-Vehicle, AgDSM, Energy efficient ACs, NMRP etc.
About NMRP, he mentioned that the primary purpose of this NMRP is to remove the financial barriers in replacing the old inefficient motors to high efficiency IE3 motors to achieve savings. He described the steps involved in the participation for the program. He requested the participants to visit the web portal of NMRP for more information. He requested participants to visit their web site for more details on NMRP http://www.motor.eeslindia.org
Q&A session to Mr. Thirumurgan:
Is there any minimum quantity of motors for the replacement program?
Ans- Minimum quantity of motor replacement is 50. You can collaborate with other industries for fulfilling limit.
Which brand of motor is used for supply?
Ans- There is a tie up with Rotomotive motors as they accepted all the conditions of NMRP. They customize the motor as per the customers requirement.
Is there any carbon credits available? Whether these credits passed on to clients?
Ans- Yes carbon credits are available but it does not pass to the clients.
Is buyback program or any concession for old motor available for this replacement program?
Ans- No. You can scrap it or use it as a standby motor.
If installed motor breaks down due to any mechanical or electrical failures then in how much time you can replace that? Is motor is replaced or any part of it is replaced?
Ans- Warranty period is of 3 years. Within this period, we will replace it or any of its part as per requirement within 3 working days. For that you have to call to customer care for raising complaint and complaint addressal
What is the duration of agreement?
Ans- Duration of this agreement is of 3 years. There will be a fixed EMI for 3 years. After 3 years motors will belong to the plant with entire savings benefits.
Is there any similar program for agriculture sector?
Ans- Yes, program like AgDSM (Agriculture demand side management program)
2. Dr. Bhaskar Natarajan (Director, ISC)
Dr. Natarajan briefed on how the electricity sector has been transformed from The Electricity Act 1948 to The Energy Conservation Act 2001, to The Electricity Act 2003. Also, he briefed about the companies act which came up with notification to make companies responsible to disclose the energy consumption in their balance sheet. He said that the companies started to report year-on-year energy consumption w.r.t last year. Because of several energy crisis the rising prices of energy and climate change impacts, The Energy Conservation Act 2001 came into effect which helped several stakeholders to take proactive measures to reduce energy cost and add value to the national energy security and conservation efforts.
He briefed about how one of the SME participated in the NMRP of EESL and replaced old inefficient motors with the advanced high efficiency IE3 motors. That benefited them in saving more than 18% of electricity with respect to overall plant. And that SME implemented the program in phased manner but invested their own capital instead of taking financial support from EESL to replace the old motors by IE3 motor under NMRP, to enjoy other benefits of the scheme like low purchase cost, 3 year replacement warranty.
3. Dr.Tarinin Sahoo (Program officer, ISC)
Dr. Sahoo mentioned about capacity building initiatives taken by ISC (Institute for sustainable communities). He mentioned that through its SME clean tech program, ISC is helping SMEs to reduce their greenhouse gas emissions by expanding usage of energy efficient, clean technology solutions. ISC's EHS+ (environment, health, safety) centre in India aims to provide factory managers with information and tools to improve environment, health and safety conditions for workers and surrounding communities. First EHS centre build up in 2016 at Pune in partnership with Symbiosis Institute for International Business. The EHS+ centre is offering factory-level trainings, customized to a variety of industries, to move industry standards from basic EHS compliance to more proactive and holistically sustainable practices. 353 factories are covered in this program from 2016 to 2019.
4. Mr. ChetankumarSangole (Head- Sustainability Desk, MCCIA)
Mr. Chetankumar briefed about the initiative of energy survey taken by MCCIA. He also spoke about the findings of the energy survey and encouraged the participants to fill up the 10 questions of energy survey. He said that in return of the survey form, we will compile the report to help industry member to locate themselves in performance matrix among the industries.
He gave information about the Sustainability desk initiated by MCCIA. Sustainability desk has prepared sustainability report for 3-member organization and currently working on three more. He mentioned that in sustainability actions and reporting, energy is key topic to help member organization to understand its impact on bottom line and linking it with SDGs.
Dr Natarajan thanked participants for attending the workshop and also thanked speakers for their support and sharing key insights. He also thanked MCCIA for arranging this workshop and asked for their further support for this NMRP.